Bangkok'78 to Experience Nostalgic Thailand Restaurant
Eat fun! Bangkok'78
Inspired by the golden era of Thailand's capital in the 70s, Bangkok'78 celebrates the city's "Greatest Hits" menu, such as Pad Thai Goong, Tom Yum soup, Khao Soi, Mango Sticky Rice, and many more retro classics using fresh local ingredients to offer authentic tastes by our experienced team of Thai Chefs led by Executive Chef Golf, top 10 contestant of Top Chef Thailand 2023!
For lovers of Thai-Cuisine, we offer long forgotten recipes in collaboration with the famous Saneh Jaan, a Thai Michelin one-star restaurant.
Experience Bangkok's eclectic vibes in a Thai-vintage 70's restaurant ambiance. Groove along the flare music of yesteryear while enjoying your casual lunch, family dinners, friends get togethers or private gatherings.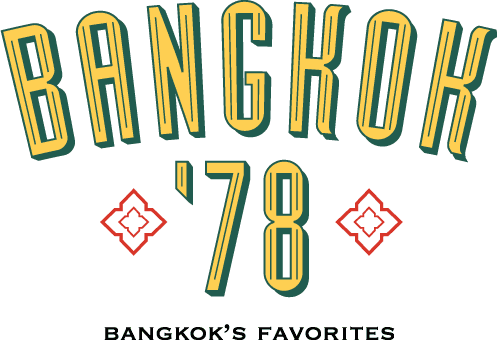 Thai Restaurant with Authentic Flavors
The Bangkok Thai restaurant's highlighted dishes include grilled "Marinated Black Angus beef brisket", "Boiled jasmine rice with side dishes, steamed fluffy egg with prawn, squid and minced pork", "Fried rice with kale, tomato and egg, mixed fruits in citrus syrup granita", etc. The legacy menus from Saneh Jaan Thai restaurant includes "Spicy pomelo salad with prawns and crispy shrimps", "Pork curry with fermented shrimp paste chili sauce" and many more.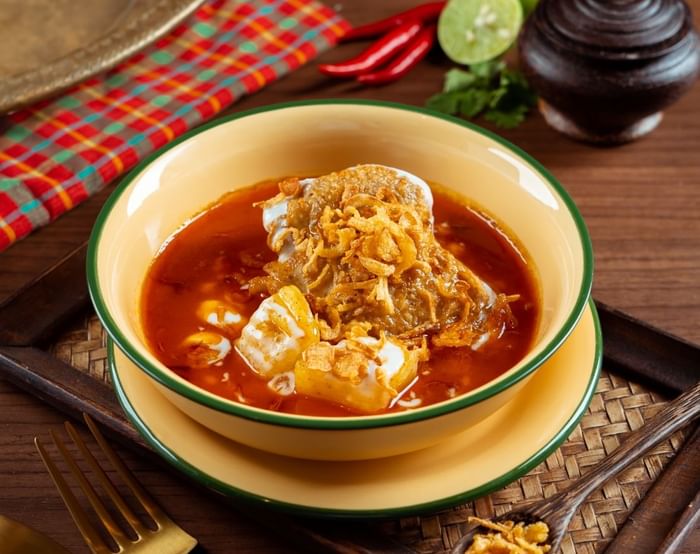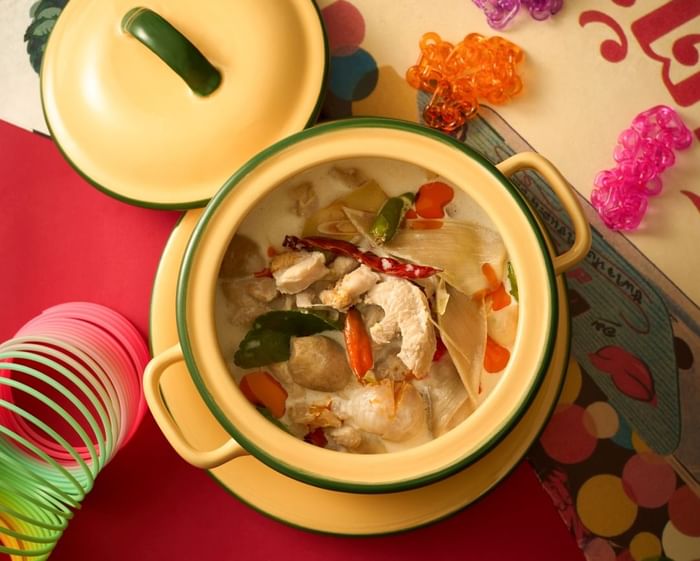 Coconut Chicken Soup with Galangal & Banana Blossom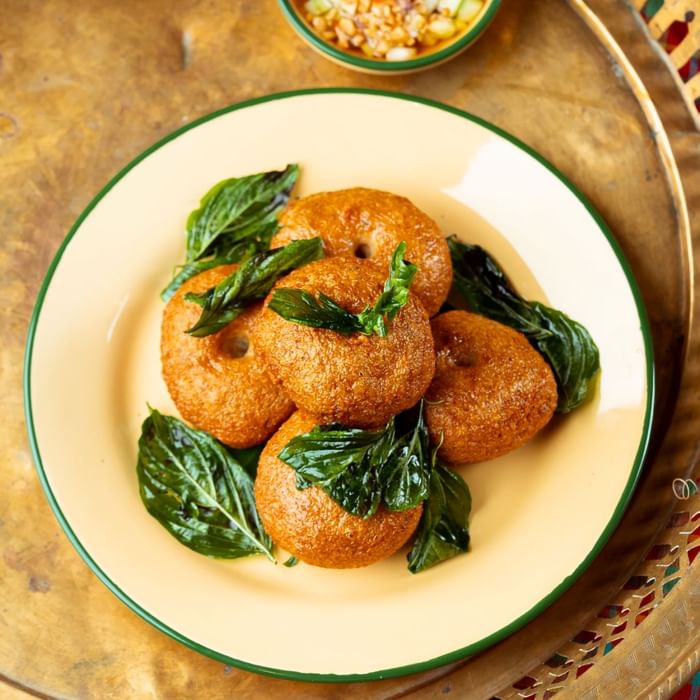 Fried Fish Cake with Sweet & Sour Sauce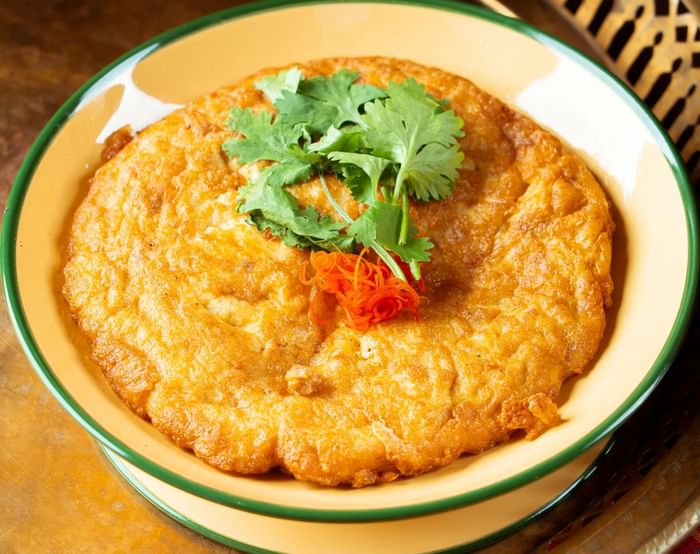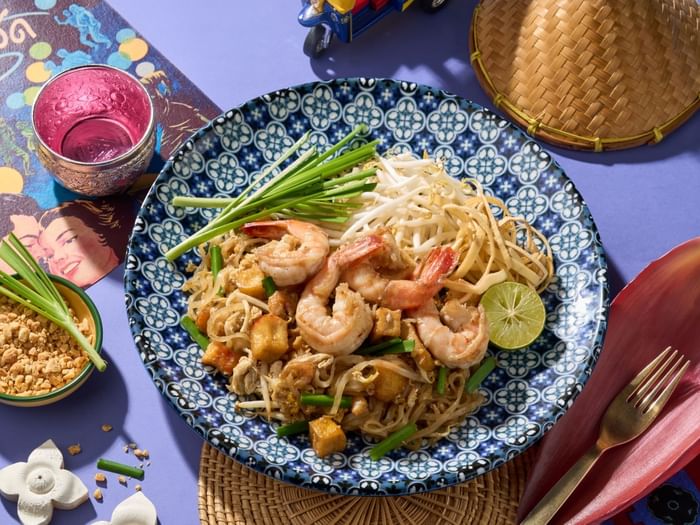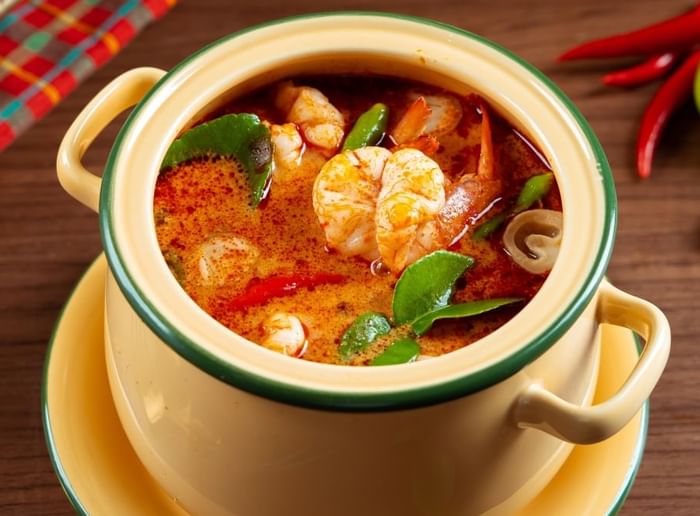 The Refreshing Taste at a Bangkok Thailand Restaurant
Freshen up with Midtowners' favorite iced tea such as raspberry iced tea and lemongrass and ginger iced tea or the Thai desserts such as "Aloe vera compote with butterfly pea syrup and lime juice", Santol granita, etc.
Meet Our Restaurant Chef
Bangkok Thai restaurant chef, Phukvarun Watchmon (Executive Chef Golf), is currently the Executive Sous Chef at Sindhorn Midtown Hotel Bangkok, Vignette Collection.
From Family Restaurant to Prominent Thai Cuisine Expert in Bangkok
Executive Chef Golf started her passion for cooking Thai food at a young age when she helped her mother at the family Thai restaurant observing, learning tips and tricks and developing a love for Thai food since then.
After graduation, she started her journey as a chef at the royal kitchen of Klai Kang Won Palace in Huahin, Thailand. Post this, she worked for Bangkok Thailand restaurants in many luxury hotels in Bangkok for over 16 years, specializing in Thai cuisine. She was a task-force chef in many cities and countries such as Shenzhen, Shanghai, and Hangzhou in China, Abu Dhabi, and Indonesia.
Presently, she leads the kitchen team of Sindhorn Midtown's Thai restaurant, Bangkok'78, the café & kitchen – Sip & Co., the pool bar with a view – Horizon Pool Bar, the Thai whiskey bar – The Black Cat, and the hotel's in-room dining program. Executive Chef Golf recently participated in Top Chef Thailand 2023 and made the top 10 finalists of the reality TV program.
The Unforgettable Thai Dining Dishes by Executive Chef Golf at Bangkok'78
Executive Chef Golf always cooks with the passion to bring out the authentic tastes of each dish for the guests. She sorts out ingredients from their best local sources to be part of her dishes. Her recommended menu at Bangkok'78 is steamed fluffy eggs with prawn, squid, and minced pork, fried rice with kale, and many more. Experience her dishes at Bangkok'78 Thai restaurant in Bangkok.