Air Purifier
Breathe healthy with an in-room air purifier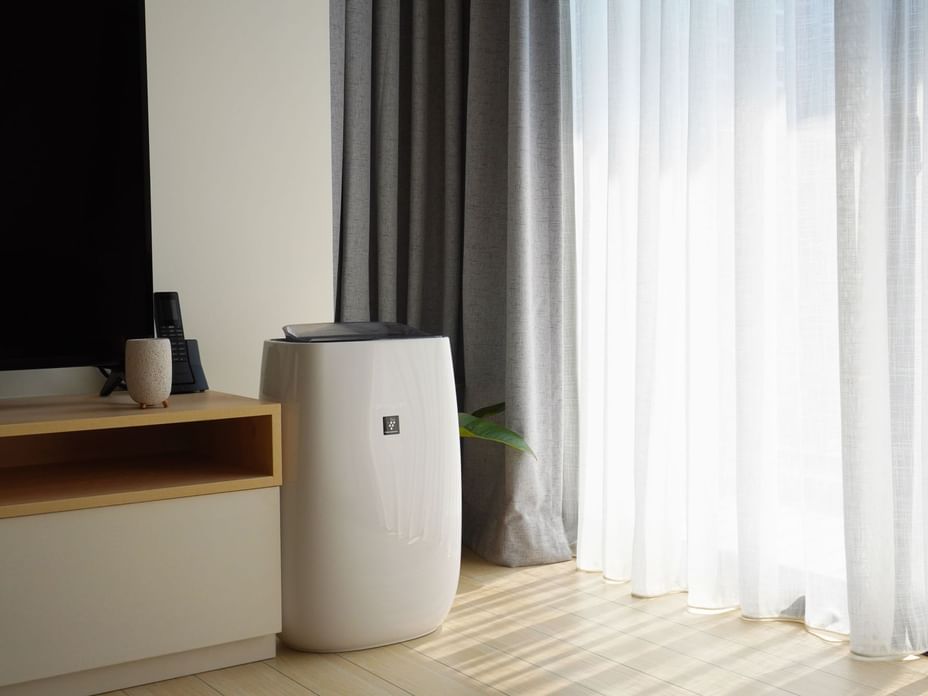 Worry less with the air you breathe once you step in our cozy cocoon. All our rooms are equipped with the SHARP air purifier to keep your room dust and germs free. Cleaner air and healthier living environment are what we value during your stay with us at Sindhorn Midtown.
Specifications:
High-density Plasmacluster ion purification: This SHARP's original air purifying technology can inactivate 99.97% airborne viruses, bacteria, allergens and suppress the growth of mold and remove odor and static electricity.

Clean Ion Shower Mode discharge concentrated Plasmacluster Ion in a shower-like pattern into the air for 60 minutes.

HEPA Filter captures 99.97% of tiny dust, cigarette particles, and pollen as small as 0.3 microns.

3-Step High performance filtering system: together with the strong air purifier performance, the 3-step filtering system effectively eliminates airborne allergens, viruses, bacteria, mold, PM2.5 and reduces odors including cigarette smoke, garbage odor, pet odor and formaldehyde.

Haze mode powerfully collects haze particles and keeps the room air clean.

Allergy UK Seal of Approval: Plasmacluster Air Purifiers are certified from the British Allergy Foundation, which remove allergens from the environment of the allergy.
For more information, please visit SHARP official website.